Embedding Images to Your Table
Source:
vignettes/embed_img.Rmd
embed_img.Rmd
Previously, if you wanted to embed images to your reactable table, you needed to upload the images to a folder and then pull the image names from that folder to your table as explained here.
Now, with reactablefmtr, there's an easier way with embed_img().
Example
To show how embed_img() works, we're going to build a table using data from the nflfastR package and display team logos in one of the columns of the table.
We're going to convert the chart below from the nflfastR beginner's guide into a reactable table.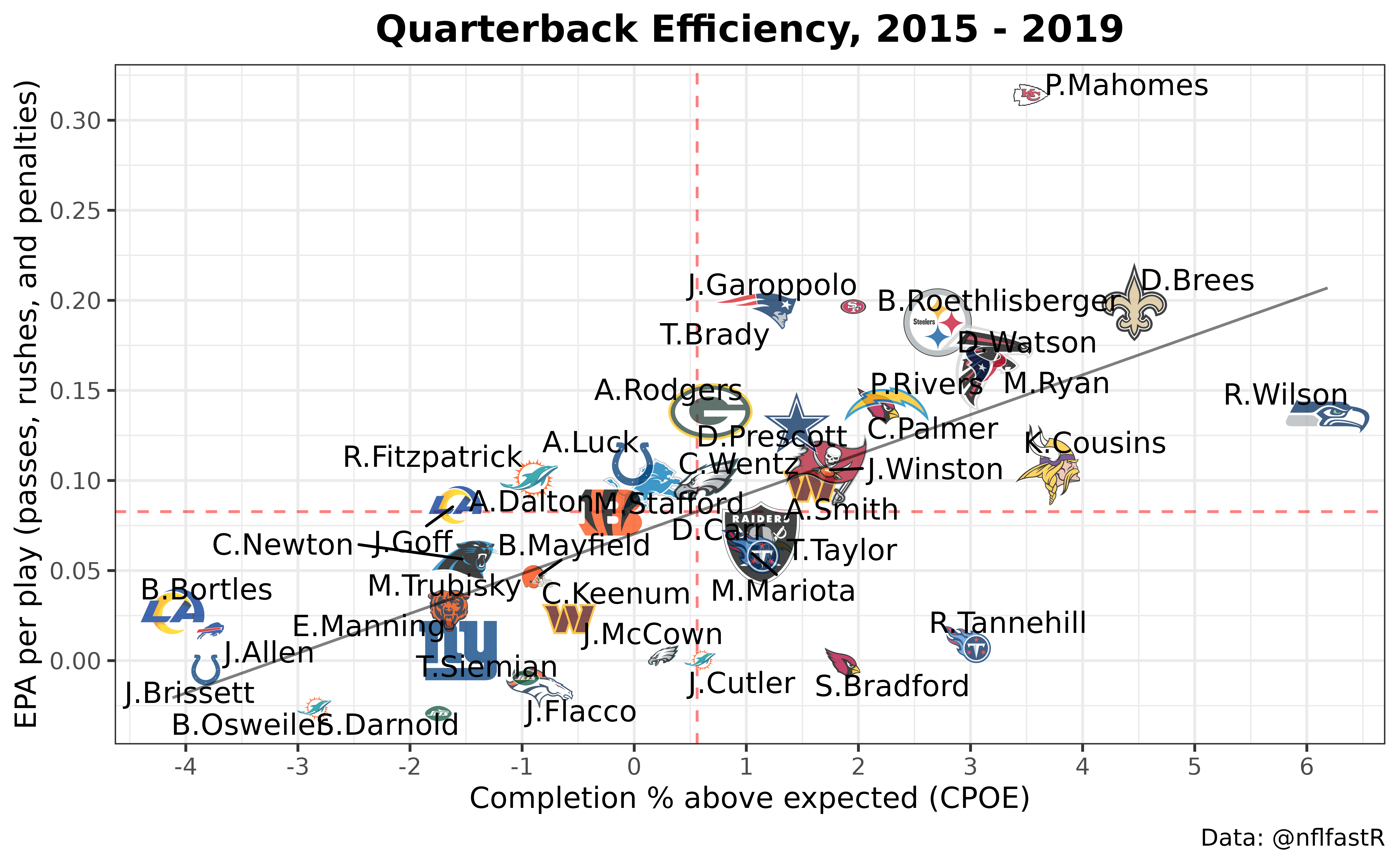 The code needed to create dataset for the chart above is outlined in the beginner's guide, which is shown below:
## 

# A tibble: 6 x 17




##   id         name        epa   cpoe n_dropbacks n_plays team  team_name  team_id


##   

<chr>

      

<chr>

     

<dbl>

  

<dbl>

       

<dbl>

   

<int>

 

<chr>

 

<chr>

      

<chr>

  
## 

1

 00-0019596 T.Brady 0.195    1.09         

3

188    

3

287 NE    New Engla~ 3200   
## 

2

 00-0020531 D.Brees 0.199    4.46         

2

972    

3

077 NO    New Orlea~ 3300   
## 

3

 00-0021206 J.McCo~ 0.002

64

  0.260        

1

154    

1

191 PHI   Philadelp~ 3700   
## 

4

 00-0021429 C.Palm~ 0.142    2.19         

1

612    

1

653 ARI   Arizona C~ 3800   
## 

5

 00-0022803 E.Mann~ 0.005

39

 -

1.57

         

2

815    

2

867 NYG   New York ~ 3410   
## 

6

 00-0022924 B.Roet~ 0.188    2.72         

2

564    

2

624 PIT   Pittsburg~ 3900   
## 

# ... with 8 more variables: team_nick <chr>, team_color <chr>,


## 

#   team_color2 <chr>, team_color3 <chr>, team_color4 <chr>,


## 

#   team_logo_wikipedia <chr>, team_logo_espn <chr>, team_wordmark <glue>
Let's limit the dataset to only the columns that we need:
The URLs to the team logo images are located in the team_logo_espn column. In order to convert the URLs into images in the table, all we need to do is use embed_img():
Resize Image
By default, images are rendered with a size of 24px by 24px. But, if we want to increase the size, we can do so by specifying the height and width:
Add Label to Image
Another option within embed_img() is assigning a label next to the image. For example, if we didn't want a separate column for the team logos, we could combine them with the name of the player like so:
We can finish up the table by adding data bars to the cpoe and epa columns with the data_bars_pos_neg() formatter:

reactable

(

qbs

,
          defaultPageSize 

=

 

20

, 

## change pagination size from 10 to 20


          columns 

=

 list

(


            name 

=

 colDef

(

show 

=

 

FALSE

)

, 

## hide name column


            team_logo_espn 

=

 colDef

(

cell 

=

 embed_img

(


              

qbs

, 
              label 

=

 

"name"

)

,
              maxWidth 

=

 

175

)

, 

## set column width


            n_plays 

=

 colDef

(

cell 

=

 color_tiles

(


              

qbs

,
              colors 

=

 c

(

"#d7191c"

, 

"#ffffbf"

, 

"#1a9641"

)

,
              number_fmt 

=

 

scales

::

comma

)

,
              align 

=

 

"center"

, 

## align column header


              maxWidth 

=

 

100

)

, 

## set column width


            cpoe 

=

 colDef

(

cell 

=

 data_bars_pos_neg

(


              

qbs

,
              colors 

=

 c

(

"#d7191c"

, 

"#ffffbf"

, 

"#1a9641"

)

,
              number_fmt 

=

 

scales

::

percent

)

,
              align 

=

 

"center"

)

, 

## align column header


            epa 

=

 colDef

(

cell 

=

 data_bars_pos_neg

(


              

qbs

,
              colors 

=

 c

(

"#d7191c"

, 

"#ffffbf"

, 

"#1a9641"

)

,
              number_fmt 

=

 

scales

::

number_format

(

accuracy 

=

 

0.01

)

)

,
              align 

=

 

"center"

)

 

## align column header


            

)

)